S330 / S331 Data Logger and Display with Gateway and IoT Capabilities
Powerful yet cost-effective data logger and display solution, connectable with all SUTO and third-party sensors.

Central unit and gateway for monitoring systems

High-resolution 5" color touch screen

Vielseitige Anschlüsse mit bis zu 20 Sensoreingängen

IIoT support with connection to S4M software

Alarm monitoring for all measurement channels

Data Logger with 100 million values

2 x SUTO + 16 x Modbus/RTU + 2 x Analog / Pulse Sensor

The S330 / S331 Data Logger and Display provides a universal solution for displaying and recording all relevant parameter of a compressed air system. This includes flow, dew point, pressure, temperature, power consumption, compressor status, and so on.
The device offers a powerful yet cost-efficient data logger and display solution for optimal and reliable management and monitoring of your compressed air system.
S331 Central Unit for Your System
The S331 Data Logger is used to gather and collect measurement data of various field devices. It acts as the central unit where all measurement data is safely stored and visualized. The digital communication outputs expand the S331 to not only be a display and data logger, but also a gateway to connect to IIoT services and to modern software solutions.
S330 Display Solution
The S330 is a simple and easy-to-install display device with a high resolution 5" graphic display. This allows an easy operation where details are much sharper shown compared to many of the smaller low-resolution displays.
Various Connection Options
The S330 / S331 includes digital inputs for SUTO SDI sensors and Modbus/RTU sensors. To connect the Modbus/RTU sensors properly on an RS 485 bus system, it's recommended to daisy-chain the sensors to one of the inputs. For this purpose, SUTO offers a RS 485 splitter to simplify the connection.
Through this method, users can add up to 16 sensors to the master input, making it most versatile and allowing to monitor whole plants with a single data logger (Additional power supplies for field devices might be necessary).
Connect Third-Party Sensors and Field Device Support
By relying on the industry standard protocol Modbus/RTU, the S330 / S331 supports third-party sensors to be easily integrated into the monitoring system. Field devices can be easily set up using the configuration software, allowing to add a third-party sensor within seconds.
All connected sensor data can be logged to the internal memory. This can be used for virtual channel calculations. All real-time values are also forwarded to connected software and monitoring solutions.
Collect Your Sensor Data for Further Analysis
Through the free SUTO S4A software, recordings are downloaded to the PC via USB, LAN or wirelessly using the LTE/4G Modem. The basic analysis can be done in S4M. For more sophisticated compressor analysis, the SUTO CAA software (incl. with the S551) offers many advanced features such as: Performance statistics of compressors like efficiency, air delivery, load/unload cycles as well as leakage analysis, report generation and more.
Do you need further information or application consultation in regards to connecting our field devices? Please contact us here.
The universal display and data logger can display and record all relevant parameters (Flow, consumption, dew point, pressure, temperature, power consumption, compressor status etc.) in a compressed air system.
SIGNAL INTERFACE & SUPPLY

Data logger
Storage
Internal, up to 100 million values
Sampling rate
Optional >=1s, Max 59 mm:59 ss
Input signals
Digital input
2 x SDI sensors 16 x RS-485 Modbus RTU Sensors 2 x 0 ... 20 mA / 4 ... 20 mA / 0 ... 10 V
Analog input
2 x 0/4 ... 20 mA; 2 x 0 ... 10 V;
2 x pulse
Pulse input
100 Hz maximum; 28 V, 10 Ma
Output signals
Analog / Pulse output
4 ... 20 mA signal and pulse signal of sensors can be looped through the display by using the connection board
Alarm output
2 Relais, 230 VAC, 3 A, NC
Field bus Interface
Protocol
Modbus/TCP (Ethernet), Modbus/RTU ( RS 485)
Electrical data
Power supply
100 ... 240 VAC, 20 VA (option, A1663) 18 ... 30 VDC, 20 W (option, A1664)
Sensor supply
24 V, 10 W
Data interface
Connection
Modbus/TCP (Ethernet), Modbus/RTU ( RS 485), USB
GENERAL DATA

Configuration
PC Software
S4C-Display software
Display
Integrated
Size: 5" high-resolution graphic display
Resolution: 800 x 480 pixels touch screen
Material
Housing
PC + ABS
Miscellaneous
Electrical connection
Screw-Terminal connectors
Protection class
IP65
Approvals
CE
Housing
Panel, wall mountable
Dimensions
See dimensional drawing
Cable entry diameter
4.5 ... 8 mm
Cable
Supply: AWG 12 ... AWG 24, 0.2 ... 2.5 mm²;
Signals: AWG 16 ... AWG 28, 0.14 ... 1.5 mm²
Weight
0.52 kg
Operating conditions
Ambient temperature
0 ... +50 °C
Ambient humidity
< 90 %
Storage temperature
-20 ... +70 °C
Transport temperature
-20 ... +60 °C
"S401: INSTALLTION EINES DURCHFLUSSMESSERS UNTER DRUCK"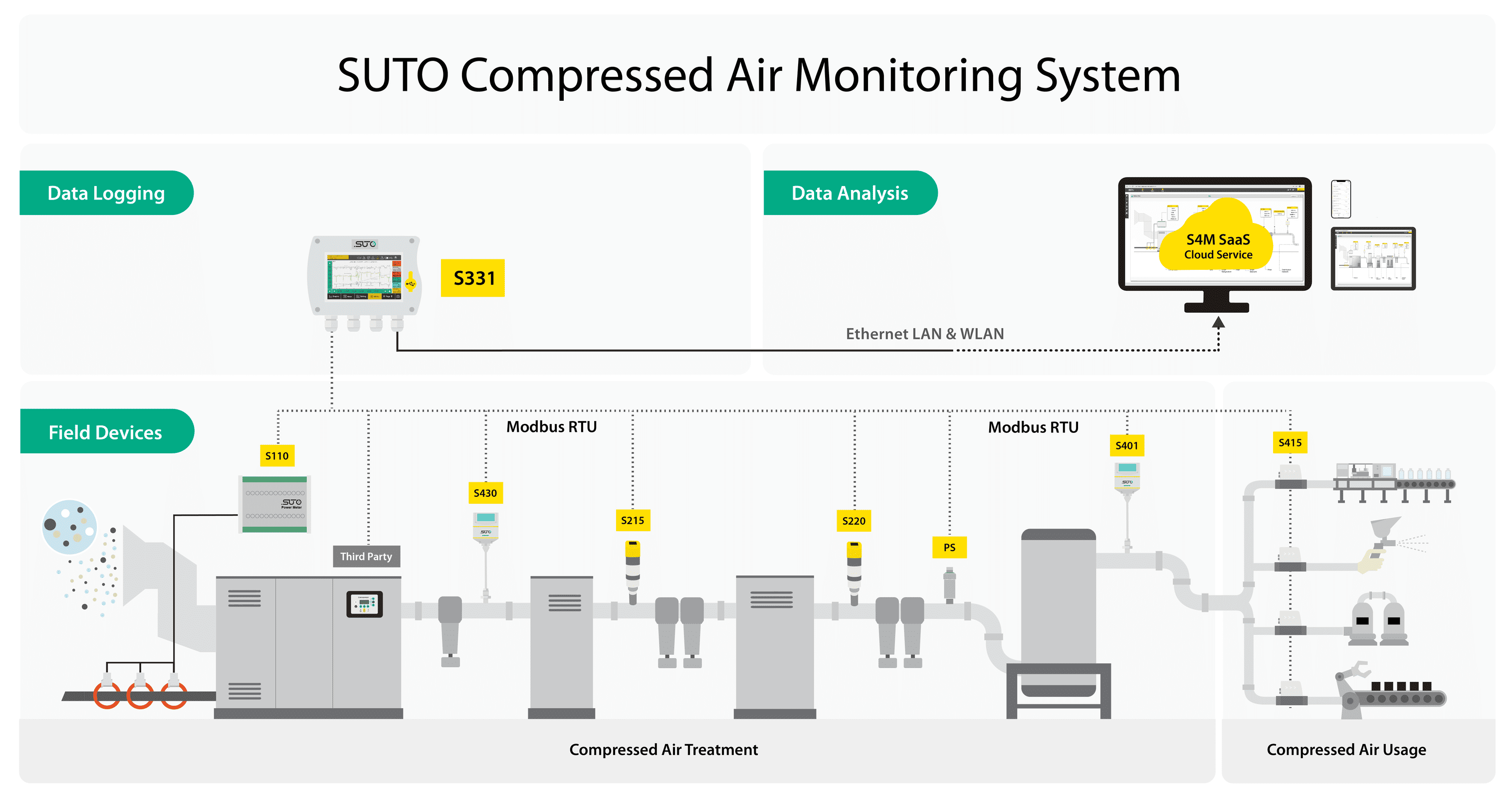 Personal advice
Would you like to receive more information about products and applications?
Or do you need personal advice? We're here to help!