S600 Portable Compressed Air Purity Analyzer for Quality Measurement
Portable compressed air purity and quality monitoring solution according to ISO8573-1 at the point-of-use.

Portable solution to measure all quality parameters

Software guided measurement for high precision

High-resolution 5" color touch screen

Ultra-portable and compact design makes it unique

PDF Report generator for ISO 8573-1 audits

USB or optional 4G/LTE interface for data transfer

Isokinetic sampling device to conform with ISO

For Compressed Air, Nitrogen N2, Carbon dioxide CO2
The S600 Portable Compressed Air Purity Analyzer provides an all-in-one solution to measure dew point, particle and oil vapor as specified in the ISO 8573-1 standards. It combines the latest sensor technology, software-guided measurements and a time-saving setup into one portable, touchscreen controlled multi-tool. With our S600, compressed air quality measurement audits can be finished in minimal time compared to traditional methods.
Compressed Air Quality Measurements According to ISO 8573-1
Many industries like the pharmaceutical and food industry require high-quality compressed air. Process and product safety can be ensured by frequent measuring of compressed air quality, while meeting the ISO 8573-1 standard requirements. At the same time, monitoring the compressed air quality can avoid production downtime and improve system reliability.
On-Site Measurements for Great Flexibility
Forget the old methods of compressed air quality and purity monitoring. The S600 monitoring solution uses software-driven measurements to ensure a peak level of flexibility and accuracy. With a vibrant 5-inch touch screen, you can control and monitor all the data directly at the measurement location. You get the whole package in one easy to carry case. This can be taken with you anywhere with ease. The S600 case is 45 x 38,1 x 19,05 cm in size.
5 in 1 Measuring Device
The S600 Portable Compressed Air Purity Analyzer measures dew point/humidity, particle counts, temperature, pressure, and oil vapor with high accuracy in one device. With an integrated data logger, the data recording of these parameters for further data analysis has never been easier.
Particle measurement from 0.1 < d ≤ 0.5 µm, 0.5 < d ≤ 1.0 µm, 1.0 < d ≤ 5.0 µm is possible, thanks to the latest laser detection technology. The measurement methods meet the requirements of the ISO 8573-4 standards (together with the isokinetic sampling device). Counting efficiency according to ISO 21501-4 30…70% of d> 0.1 µm, 90… 110% od d>= 0.3µm.
Oil vapor measurement from 0,001 bis 5,000 mg/m³ is provided by state-of-the-art photoionization detector (PID) with self-calibration. The measuring range is measured according to ISO 8573-1 Class 1 to Class 5, with high precision (5 % of reading ± 0.003 mg/m3 accuracy).
Pressure Measurement with the latest sensor technology, providing important additional quality data about the compressed air system.
The Integrated data logger records all channels in parallel for later analysis. The 5'' touchscreen allows you to interact with the device on site. There is no need for a PC to manage the device.
ISO 8573-4 Isokinetic Sampling Device
For particle measurements according to ISO 8573 an isokinetic sampling tube has been designed. This optional equipment enables you to monitor and adjust the air flow of the particle measurement to ensure the correct isokinetic sampling.
Create Powerful Reports for Compressed Air Audits
The S600 enables users to create powerful PDF reports directly on site. The reports are following the recommendations stated in the ISO 8573. Customer related data as well as service provider details can be entered on-screen, making it even easier to perform audits and to create meaningful reports. PDF reports can be created from any recordings on the device and are copied on the fly to a connected USB drive for direct print-outs.
Optional 4G/LTE Remote Connection
By integrating a USB port for 4G dongle connection outside the S600 casing, the portable devices can be easily connected to the S4A Software and monitored remotely. This eliminates the need of a WiFi connection. The USB 4G dongle is an optional feature and can be ordered together with S600, but also upgrade later. To use the new feature, a SIM card is required. Get additional information from our instruction video.
SUTO Exchange Service
The exchange calibration service eliminates downtime and enables users to have a seamless record of their dew point measurements. We are happy to advise you and find the best possible configuration for your application. Please contact us here for further questions and information.
Air quality measurements in medical, pharmaceutical, food and beverage applications
Compressed air quality audits regarding the ISO 8573-1
Point-of-use measurements to ensure process safety and quality in all applications
Monitoring of high-tech applications with strict air purity requirements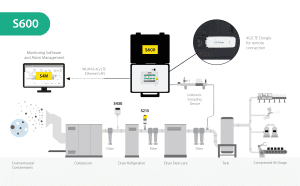 MEASUREMENT

Particle concentration
Accuracy
Counting Efficiency according
ISO 21501-4
30 ... 70 % of d > 0.1 μm
90 ... 110 % of d ≥ 0.3 μm
Selectable units
cn/m³, cn/ft³
Measuring range
0.1 < d ≤ 0.5 μm
0.5 < d ≤ 1.0 μm
1.0 < d ≤ 5.0 μm
5.0 μm < d
Sensor
Laser optical particle counter
Sampling rate
1 min.
Flow rate
2.83 l/min
Pressure Dew Point
Accuracy
± 1 °C Td (0 ... 20 °C Td)
± 2 °C Td (-70 ... 0 °C Td)
± 3 °C Td (-100 ... -70 °C Td)
Selectable units
°C, °F
Measuring range
-100 ... +20 °C Td
Sensor
QCM + Polymer
Response time (t90)
-20 °C Td -> -60 °C Td = < 240 sec
-60 °C Td -> -20°C Td = < 30 sec
@ 4 l/min
Oil vapor
Accuracy
5 % of value +/- 0.003 mg/m³
Detection limit
0.003 mg/m³
Resolution
0.001 mg/m³
Selectable units
mg/m³
Measuring range
0.001 ... 5.000 mg/m³
Sensor
PID (Photoionisation detector)
UV lamp lifetime
1 year or 6000 working hours, whichever comes first
Sampling rate
1 sec.
Pressure
Accuracy
0.5 % FS
Measuring range
0.1 ... 1.6 MPa(g)
Sensor
Piezo resistive sensor
Temperature
Accuracy
± 0.3 °C
Measuring range
-30 ... +70 °C
Sensor
Pt100
Reference conditions
Wählbare Bedingungen
ISO1217 20 °C 1000 mbar
SIGNAL INTERFACE & SUPPLY

Fieldbus
Protocol
Modbus/TCP
Update rate
1 / sec.
Power Supply
Voltage supply
Mains supply adapter (AC/DC)
Input: 100 ... 240 VAC, 50/60 Hz, 1.4 A
Output: 24 VDC, 2.5 A, 60 W max.
Current consumption
1.4 A
Interface
USB
USB Micro with OTG support
LTE/4G USB
USB Port for 4G/LTE Modem
GENERAL DATA

Configuration
Others
Device comes pre-configured
Configuration can be done via
on-screen touch
Display
Integrated
Touchscreen, Size: 5", Resolution:
800 x 480 px
Data Logger
Storage
Up to 3 million recorded data sets
(10 channels each)
Report
Integrated report generator for
PDF export
Material
Process connection
Brass nickel-plated, FKM
Housing
PC + ABS, Al alloy
Miscellaneous
Electrical connection
2-Pin, push-pull socket
Protection class
IP54 (cover lid closed)
Approvals
IEC 61326-1
Process connection
Micro quick connector, full
passthrough, male (1.5 m hose with
coupling included)
Weight
9.8 kg
Operating conditions
Medium
Compressed Air, Nitrogen N2, Carbon dioxide CO₂ (software setting)
Medium quality
ISO 8573-1: 4.4.4 or better
Medium temperature
0 ... + 40 °C
Medium humidity
Medium humidity < 40 % rH,
no condensation
-30 ... 70 °C
Operating pressure
0.3 ... 1.5 MPa(g)
Ambient temperature
0 ... +50 °C
Ambient humidity
0 ... 90 % rH
Storage temperature
-10 ... + 70 °C
Transport temperature
-10 ... + 70 °C
| | |
| --- | --- |
| MEASUREMENT | |
| Measuring unit | Measuring unit Sampling pipe with integrated isokinetic sampling tube, flow regulation and control by integrated flow sensor, to be used for particle measurements according to ISO 8573-4 |
| Flow meter unit | Thermal mass flow meter (only for isokinetic flow setup, no system flow measurement) |
| Sensor | Thermal mass flow sensor |
| Accuracy | 3 % o. RDG |
| | |
| SIGNAL INTERFACE & SUPPLY | |
| Connection | Communication to S600 (cable included) |
| Update rate | 1 / sec. |
Personal advice
Would you like to receive more information about products and applications?
Or do you need personal advice? We're here to help!